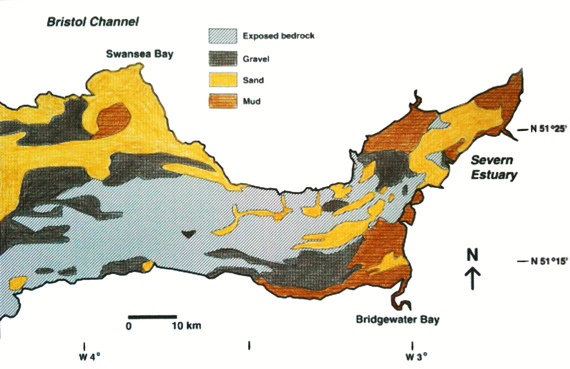 Places like the Severn estuary are the most productive ecosystems on the planet. For example, it is estimated that about 30,000 snails can be found within each m2 of mud. And the Severn Estuary contains about 100 km2 of intertidal mud flats.
Severn estuary mud originates from small rivers, like the river Parrett. It is a mixture of clay minerals, sands and polysaccharides (mucus produced by mud-dwelling microorganisms). The sands and the polysaccharides render the mud more cohesive and increase its ability to bind pollutants (heavy metals, pesticides, etc) present in the water.
During the incoming tide, much of the estuary mud re-suspends itself and forms large-scale mobile or static suspensions (slugs and pools), which then disappear again with the outgoing tides. This kind of dynamic self-organization has often been described in complexity theory, but in the estuary it can be readily observed.
Waves with fetches of up to 6000km extending into the Atlantic Ocean generate strong currents near the bed of the Severn estuary. These currents influence whether mud suspended in the estuary can settle or not: where the near bottom currents are strong, we find areas of exposed bedrock, where they are weaker we find gravel, sand or mud.
Other phenomena are its quicksand pools, often concealed within sand banks, that make walking at low tide quite tricky. The funnel shape of the estuary amplifies the incoming tides, sometimes creating a surge wave, the Severn Bore, which if the conditions are right can travel upstream unbroken for many kilometres.
During spring tides, the accelerated flow of water means that a larger amount of silt is re-suspended and moved about in the estuary. Then about 30 million tonnes of fine sediment are in suspension.
Tidal pumping, the increased transport of sediment towards the head of an estuary, occurs during spring tides. Tidal pumping and the tendency for sediment to settle during neap tides causes so-called estuary turbidity maximia (ETMs), which make it very difficult to predict where exactly sediments may go into (re)suspension, and where they may settle.
Researchers found that, despite their mobility, fine muddy sediments are being maintained in the estuary for 10 years or more. So only in certain tidal and weather conditions can waste released into the water actually leave the estuary.